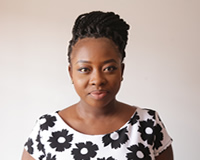 PRISCILLA GYAMFI
HEAD, SALES AND MARKETING
Priscilla is a dedicated customer service and marketing executive with 3 years of experience in sales and marketing / relationship management and has consistently achieve record in marketing satisfaction rankings.
She previously worked as a sales and marketing executive @ Tonaton Ltd and Silverbird Ghana before joining GHS recently. She holds a Master's Degree in MBA-Marketing from the University of Mysore – India and a Bachelor's Degree in Psychology and Theatre Arts from the University of Ghana – Legon.