GHS HOUSING LTD in collaboration with Telesol Limited has launched high-speed fiber broadband internet in their Korleman City Gated Community.
The event which took place last Saturday was attended by many homeowners who are to be in direct benefit of the product.
The highly attended event featured a speech from David Habadah, Operations and Sales Manager of Telesol Limited. He detailed the benefits of the product and the future plans they have for the community.
In his speech, David spoke about the installation of a modern surveillance system at the entrance of The Mayflower Court to monitor who is entering the estate and why.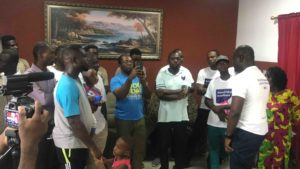 One of the highlights of the event was a demonstration by the Head of Engineering at Telesol Limited, Emmanuel Aidoo. He projected the system on a TV screen for the residents to witness how the system works
The surveillance system included an I.P Desktop Phone and high definition cameras with a recording capability of minimum 2 months.
Also, David stated that the high-speed internet is here to significantly improve the livelihoods of the residents in the community. In other words, they are going to experience streaming, downloading, online video games, video calling, etc on a different level.
He assured all the residents of a reliable internet with better speed than any other Internet Service Provider.